VMware VSA come si licenzia?
Qualche giorno fa, mi sono imbattuto in un problema abbastanza strano con il licensing della VSA.
Ho installato un cluster vSphere con licenza Essential Plus e con storage condiviso dalla VSA di VMware. Come spesso accade, installo il tutto usando le licenze trial e poi prima di passare in produzione applico le licenze commerciali.
Quando ho aperto il portale My VMware del cliente ed ho selezionato la licenza, ho notato che non esisteva un codice dedicato alla VSA.
Dopo aver provveduto ad installare le licenze del bundle in vCenter, questo era il risultato:

Come si può vedere dall'immagine, la VSA rimane in "Evaluation Mode" con scadenza 22/05/2013.
A questo punto, preoccupato che alla scadenza del periodo di valutazione, la VSA smettesse di funzionare, ho aperto una  chiamata al supporto ed ho esposto loro il problema.
Il supporto ha risposto poco dopo quanto riportato di seguito:
As informed, VSA is a feature in vSphere 5 Essentials Plus bundle, which doesn't require a separate license key to license VSA.

As long as vCenter Server 5 is licensed, VSA will be licensed.
La prova è il fatto che dall'about page della VSA, risulta avere una License Key, che corrisponde a quella del vCenter.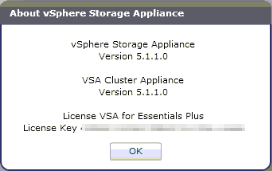 In conclusione, per quello che riguarda la VSA inclusa nei bundle tipo Essential Plus, non serve una licenza dedicata.